Tips on How To Unlock A Steering Wheel
Most drivers near Pueblo don't realize when their steering wheel unlocked until it's an inconvenient moment. If you're having problems starting your vehicle, or if your key won't turn the ignition, it's possible your steering wheel has been locked. It's usually easy to undo – just follow this simple guide on how to unlock your steering wheel, or contact us today for extra help.
Steps to Unlocking a Steering Wheel
Your chances of successfully unlocking your steering wheel go up, and your chance of avoiding damage go down when you follow these pieces of advice:
Avoid Excessive Force: A locked steering wheel doesn't respond well to muscle. In fact, forcing the wheel can damage parts of your steering mechanism. Instead, gently turn the key to the "on" position, and use varying amounts of pressure while working the wheel back and forth.
Try Different Techniques: If you can't turn the key to the "on" position, slowly turn it in the ignition with one hand and adjust the wheel back and forth with the other. Doing so can help realign your steering column and allow you to start your car.
Use a Different Key: If your usual key isn't working, hitch a ride to our dealership – or your local dealership, if you're reading this guide from afar – and have a new key made. A key's shape can change with regular wear and tear, so it's possible that your key no longer engages your vehicle's tumblers. A fresh key made from your serial number ensures you're getting one that should work.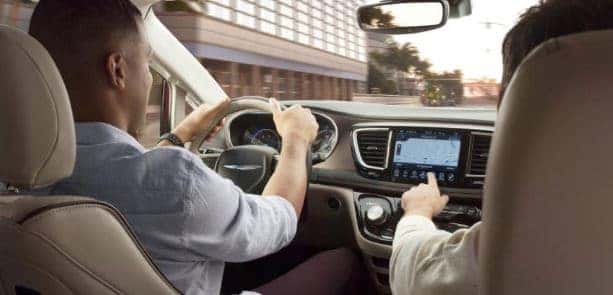 Contact Perkins Motors for Additional Help
Tried all of these tips already and still having issues? Visit our service center in Colorado Springs for extra help. Contact us today, and a member of our team will help you try some new steps. You'll be back on the road near Castle Rock in no time!
More from Perkins Motors
How much can a Jeep Wrangler tow? Your 2020 Jeep Wrangler towing capacity will come in at 2,000 pounds or at 3,500 pounds, depending on the configuration you select for your Pueblo drives. However, no matter which build you select, you'll be able to tow with confidence thanks to Jeep 4×4 technology and a range…

At Perkins Motors, we know that football fanatics from Pueblo to Castle Rock are gearing up for another season of Air Force Football! Every year, Air Force Football takes over Colorado Springs, and the first game is nearly here. August 31st marks the opening game for the Air Force Football season at Falcon Stadium. Learn everything you…

When you're on the trails of Canon City or Denver past sunset, you need to ensure that your Jeep Wrangler headlights, LED headlights or otherwise, can cut through the darkness! Are you looking to take your nighttime visibility to the next level? Perkins Motors is only a short drive from Pueblo and Castle Rock, and we offer the…